NES Girls Hostel (Only For First Year Students)
Girls Hostel Information:
Capacity: 294 with 74 rooms
Floor Space: 4500sqare meters
Fees:-
The hostel fee should be paid in the form of DD only. For girls hostel the DD should be drawn in favour of NES WOMENS HOSTEL payable at GUNTUR. However for girl students bus fees should be paid from Guntur to the college in the favour of RVRJCCE.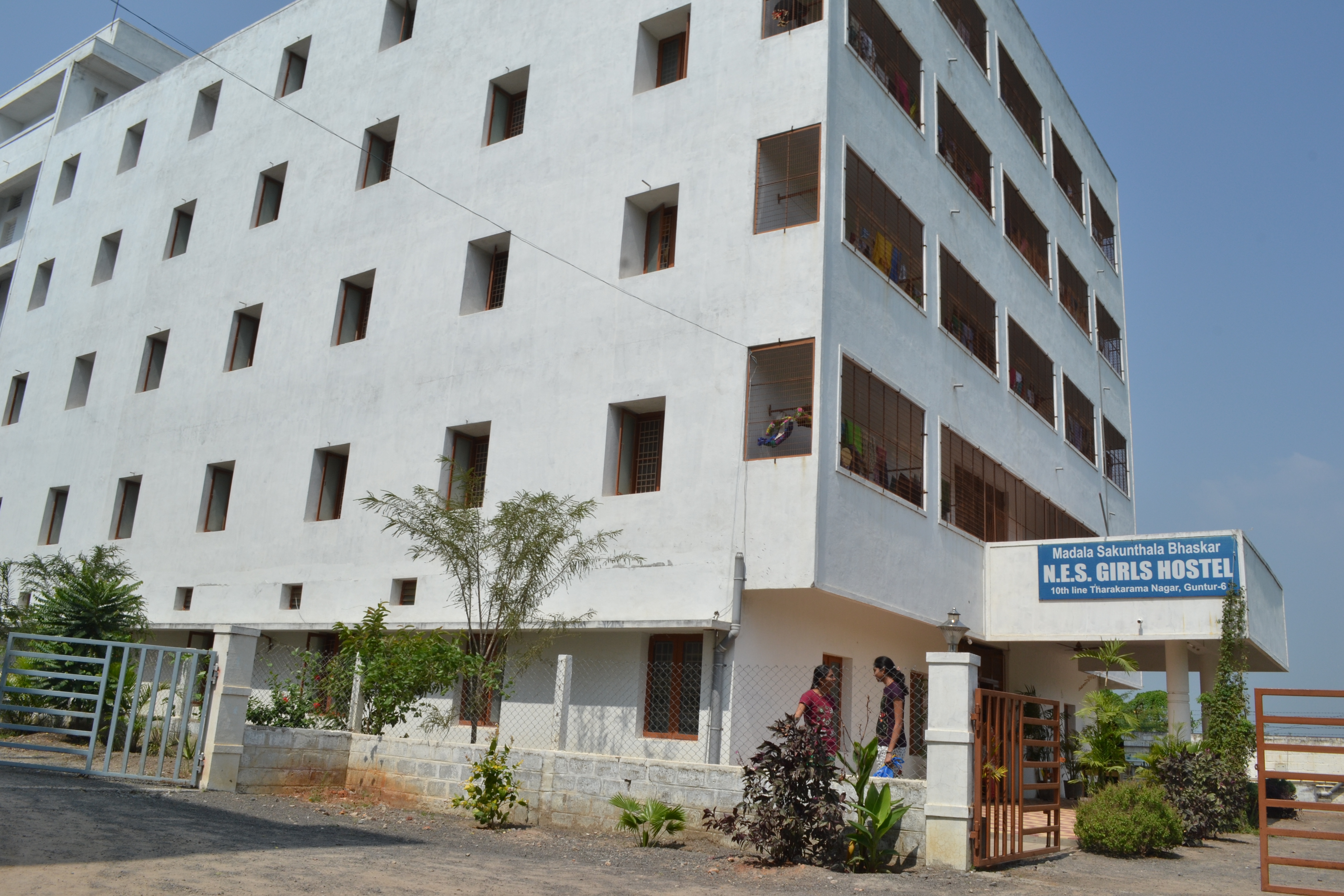 Girls Hostel Facilities:
Steam cooking
Chilled R.O treated water for drinking
Audio visual room
News papers
Indoor Gym
Outdoor gym
Indoor and outdoor games
Convenience stores
Lift
Signage display
Computer center with 32 terminals with internet connection
Each student is provided with cot, locker, chair and room with mirror, two ceiling fans, two tube lights, bed light, mosquito proof window shutters etc.
Solar hot water with electrical backup
72.5 KVA generator power backup
Fire extinguishers-23
Round the clock vigilant lady security guards and gated campus
Surveillance cameras are installed in corridors of each floor and also at identified points.
Biometric monitoring of entry and exit of students
First aid facility
Rooms for Mess workers are provided separately with in the hostel campus and outside the hostel building.
Aptly supportive adequate number of Cooking, Cleaning, Scavenging and Security Staff( 16 no's)
NES Girls Advisory Committee:
| | | | |
| --- | --- | --- | --- |
| 1 | Dr. P. Ch. Sanjeeva Rao | Professor, CE | Convener |
| 2 | Dr. N. Chaitanya | Assoc. Prof., | Co-Convener |
| 3 | Dr. N. V. Srinivasa Rao | Registrar | Registrar |
| 2 | Dr. J.Usha Kranthi | Asst. Professor, CED. | Member |
| 3 | Ms.P.Tripura | Asst. Professor- EEE | Member |
| 4 | Ms.G.Swetha | Asst. Professor I.T. | Member |
| 5 | Ms. P.Balaprashanthi | Asst.Professor, ECE | Member |
| 6 | Ms.Sneha H Dhoria | Asst.Professor, ME | Member |
| 7 | Ms. T.Suneetha | Asst.Prof, ECE | Member |
| 8 | Dr. B.Prashanthi | Asst.Professor, CSE | Member |
| 9 | Sri G.Bhaskara Rao | Site Engineer | Member |
| 10 | Sri K.V Sivaiah | Supdt., Accounts | Member |
Staff:
Convener: Dr. P. Ch. Sanjeeva Rao, Professor, Civil Engineering
Co-Convener: Dr.N.Chaitanya, Assoc.Professor, EEE
On Campus Staff Incharge: B.Sirisha, Asst.Professor, CSE
Manager: Mr.P.Rosaiah
Warden: Smt.CH.Madhavi
Supervisor: Sri.CH.Amarendra
ANM: Smt.K.Koteswari
Contact Information:
10th lane Tarakaramanagar,
Guntur- 522006
Office:
0863 2244171
Warden:
63034 64037
Manager:
93986 26946
Convener:
9440 05777
Co-Convener:
99494 19305
Campus Staff Incharge:
83176 72336